If nothing else, read number 4. Still chuckling. DG/Damn Girl, Get Your Shit Together
Damn, Girl. Get Your Shit Together.
I have two versions of myself: the one that kicks ass and takes names, and the one that just. can't. even.
It's a hormonal thing. I can't be expected to clean my house and cook dinner and defeat my enemies when I am downing wolfsbane and transitioning into a she-beast. I ride those energy waves just like most women, but I feel like we aren't allowed to admit that we ride them. Because that makes us "less-better than men," or "hormonal," or "crazy," or "lazy," or my favorite: "witches."
Maybe you are that elusive super woman who has consistent mood, energy, and awesomeness all month long, who kicks ass from sun up to sundown 365 days a year and runs and wins marathons on the first day of her period. In which case, Hi Gwyneth! Thank you so much for reading, girl! I loved you in "Duets"!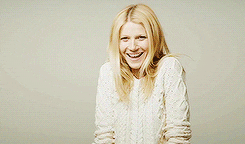 For the rest…
View original post 849 more words